Foundation Vluchtelingen in de Knel works on new prospects for refugees whose applications have been declined. A team of 7 experts and approximately 80 volunteers offers medical and legal guidance to refugees who may through the cracks in the system. These people often have an asylum petition in process but no longer qualify for an asylum centre.
The office is an informal space where clients and volunteers come and go but it also functions as a safe space where refugees' stories and medical records are discussed. It is a workplace where the work can be emotionally and cognitively taxing. Weekly living stipends are also issued here.
The opportunity for a fresh layout and improved working conditions arose when old gas furnaces had to be replaced.  
The challenge was to realise/create a new structure within the existing space without diminishing the current informal and approachable character.
This required detailed knowledge of the delicate balance in usage for different user groups.
Location
Hoogstraat 301, Eindhoven
Period
December 2016 – June 2018
Theme
Renovation
Project Team
Hanneke Stenfert, Pieter Graaff

The design actively draws on the organisation's years of experience working in the space. A model-workshop helped re-create the usage patterns for different moments in the week. Additionally, refugees assisted in the realisation; not only with moving and decorating but also as furniture makers. This helped them to quickly embrace the space as their own.
Limited interventions within the existing framework allowed for complex programming. New perspectives were discovered for example by eliminating the suspended ceiling. This meant a second floor could be added for quiet workspaces. The existing windows could be opened, and an old stained-glass window was visible again.
Built-in cabinets and integrated LED lighting made efficient use of the limited space available. Application of steel and glass brought together the need for more individual spaces with the requirement for increased social control. A new application of colours eliminated the need for a tedious key system for the consultation rooms.
A detailed knowledge of spatial use came together organically with the hidden historical qualities of the space to produce a comprehensible and approachable design.
Related to
Vluchtelingen in de Knel
Projects, news and articles related to Vluchtelingen in de Knel, Eindhoven.
Project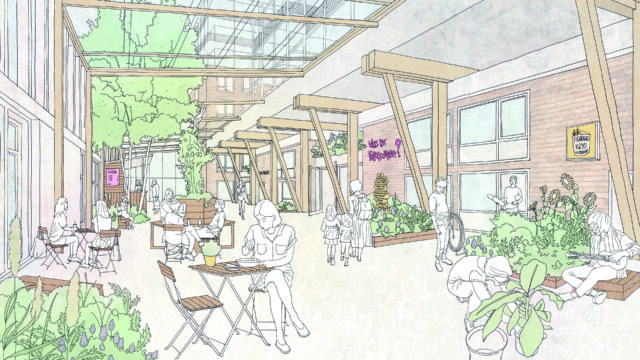 Project